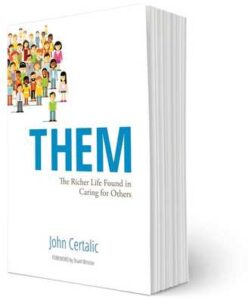 Have you ever wanted to understand and help someone who is depressed or angry? How about someone who is fearful, or has trouble forgiving and reconciling with others? Maybe you want to know how to better encourage someone.
In THEM – The Richer Life Found in Caring for Others, John Certalic weaves together real-life stories that practically show how to help others – and ourselves – deal with the challenging relational issues that affect us so deeply.
Winner of Writer's Digest Best Inspirational Book of 2016.  Endorsed by Dr. Laura Mae Gardner, Ruth Van Reken, Dr. John Powell, Stuart Briscoe, and numerous missionaries.
Reader Reviews
I've frequented quite a few "how-to" books on care and counseling. When I opened THEM, I was expecting a list of tools to utilize when caring for others. A check-list of sorts. What I found was profoundly different. I was quickly engrossed into a vulnerable narrative filled with deep, human emotion. I found myself switching between wiping tears from my eyes, laughing out loud, or jotting down a profound piece of wisdom. THEM did not provide a check-list of how to care. It provided something even better: inspiration. Internally, I was motivated to truly love and care for others.
– Amazon reviewer
Be ready for John's storytelling to cause reflection on your own life and relationships as the narrative and the wisdom here call us to move beyond inherent human self-centeredness towards loving relationships. And you just may have trouble putting it down, as I did.
– Bill Oliverio, Ph.D., Associate Dean, SUM – Bible College and Seminary
I thoroughly enjoyed this book! Moving through the story of his life, John Certalic allows us to see the impact kindness and listening can have on a human soul. He shows through story, that we all have the power to care for others in transformative and life-giving ways. The second half of the book is robust with practical wisdom about walking through life in spiritual healing, forgiveness and self awareness. This is a book that will take some time for me to fully digest. I know I will be re-reading much of it.
– Anonymous Amazon reviewer
A compelling read. Through a beautifully written account of his intriguing story intertwining with others in significant, life changing ways, Certalic paints a masterpiece of what it looks like to live in deep, authentic, healing relationship with God, others, and himself. Instead of telling us how to do this, he shows. I highly recommend it.
– Ruth E. Van Reken Co-Author, Third Culture Kids: Growing Up Among Worlds;
author, Letters Never Sent; co-founder Families in Global Transition
I loved this story, it was filled with so many applicable lessons in life about listening to one another, allowing ourselves to follow our gut, and living a life in search of beauty and love. I cried my eyes out and laughed out loud;  this book was filled with the best of emotions.
– Anonymous Amazon Reviewer
This is one of my favorite books I've read this year. My copy is filled with underlined passages and dog-eared pages. If there is one reason to read this book, it's because of the beautiful language. You'll find this book uplifting, inspiring and heartwarming.
– Srini Rao, host of "The Unmistable Creative" podcast
I cannot thank you enough for your book – the way you opened up your life so intimately was so touching and encouraging. I want you to know that I have caught myself trying to listen differently when I am in conversation, and I have been reaching out differently to my own father to overcome the strained past. Thank you again.
– Debbie R.
THEM is seasoned throughout with both laughter and tears, allowing the reader an emotional entry into this compelling topic of caring for others in a world that screams for us to care first and foremost for ourselves.
– Anonymous Amazon reviewer
"Since reading THEM, I find myself looking for more and more opportunities to care well for others, not out of guilt, but because I'm fully convinced that there is a richer life found in caring for others. Speaking as young twenty-something– this book reaches audiences young and old."
– An Amazon reviewer
In a world where self –help books abound, it was refreshing to read a book that was focused on others! The author effectively uses his own struggles and life story to exemplify the way someone who truly cares can impact the course of another person's life. This book makes me want to listen with intent to those around me and experience the joy that can be found in caring for them.
– Pencillady, Amazon reviewer
I love this book on so many levels! It is deep…thoughtful…incredibly helpful…and yet so readable! And of course, funny. I read the book in one day…and plan to buy several more to give to family, friends, and colleagues.
– Jill G., missionary to Asia
With wry humor and honest narrative from his own life experiences, Certalic reveals the blessings that come from humility and a willingness to place other people's needs above one's own. Throughout the book, he demonstrates how listening intently, asking followup questions, and responding out of empathy (not out of a need to fix and forget) are tangible ways of loving others unconditionally. An excellent read.
– Mark, Amazon reviewer
I loved this book! Reading the author's story and how he dealt with so many of life's issues has been such a blessing to me. Forgiveness, reconciliation and caring for others are some main themes. My life is richer having read this. And I know I will read it again and again. I highly recommend you read it!
– Anonymous Amazon reviewer
Rarely have I come across a book that can be so helpful to so many.   – JMT, Amazon reviewer
THEM is a book that you will want to read again and again. With humor and transparency, the author shares stories that encourages us to take an honest look at our relationships, and challenges us to grow personally in how we care for others. A great gift for all ages and seasons of life.
– Anonymous Amazon reviewer
This page-turner book is time well spent for anyone who has relationships that are too valuable to lose. In unpacking the art of caring for and loving others, Certalic's approach is not to give the reader a quick-fix formula or time-worn cliches, but rather to transparently demonstrate through his own real life encounters the benefits of having self-awareness, self-disclosure, and caring, authentic conversations.
– Anonymous Amazon reviewer